New Releases...
Download Catalogue...
Download Excel Data
Download PDF Catalogue
You will get a Excel file with detail about catalogue.
You will get PDF file with detail about catalogue.
Detailed info...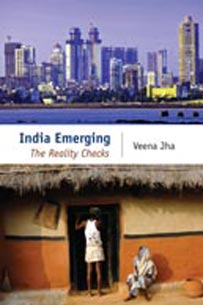 Hard-cover • 2012
Pages: 374
ISBN: 9788171889525
US$69.95
+ Add to Cart
---
Publisher:
Academic Foundation
India Emerging
The Reality Checks
In association with IDRC, Canada
Praise for this book
' Dr Veena Jha is a brilliant economist who is exploring in this book the links between growth and inequality, throwing light on the question whether growth has been inclusive in recent experience. The book is important and should be read by all development economists.'
— Prof Jagdish Bhagwati
Economics Department, Columbia University, USA
---
About the Author(s) / Editor(s)
Veena Jha is the Director, Maguru Consultants Limited, U.K., and is currently engaged in working on issues related to trade, climate change, food security, effects of fiscal stimulus packages on employment at the global level and on inclusive growth issues. She was a visiting professorial fellow at Warwick University, U.K., and a Research Fellow at International Development Research Centre (IDRC). She wrote this book during this period. She worked for the United Nations and its specialised organisations for over 20 years. She has published twelve books and served as an expert on several advisory boards in India and abroad.
---
---
Print Brochure...
Print as it is
Customised brochure
You will get a printout of what you see on your screen under 'Detailed Info'(Uneditable).
You will have the opportunity to edit the text and adjust the extent to fit on A4 size sheet or more accordingly as you desire. Plus, you can download the edited/customised Brochure or simply print it (CTRL + P).