Download Catalogue...
Download Excel Data
Download PDF Catalogue
You will get a Excel file with detail about catalogue.
You will get PDF file with detail about catalogue.
About the Author
PRINT
Veena Jha
---
Veena Jha is the Director, Maguru Consultants Limited, U.K., and is currently engaged in working on issues related to trade, climate change, food security, effects of fiscal stimulus packages on employment at the global level and on inclusive growth issues. She was a visiting professorial fellow at Warwick University, U.K., and a Research Fellow at International Development Research Centre (IDRC). She wrote this book during this period. She worked for the United Nations and its specialised organisations for over 20 years. She has published twelve books and served as an expert on several advisory boards in India and abroad.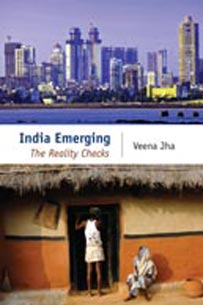 The Reality Checks
Hard-cover • 2012 • 374 • 6¼ x 9¼ (inch) ISBN 9788171889525 • INR 1095