Download Catalogue...
Download Excel Data
Download PDF Catalogue
You will get a Excel file with detail about catalogue.
You will get PDF file with detail about catalogue.
About the Author
PRINT
Nibha Bharti
---
Nibha Bharti is a Research Assistant at the Indian Council for Research on International Economic Relations (ICRIER). She has over 2 years of experience in policy-oriented research. At ICRIER, she is a key member of the research team working on G20 issues for the Department of Economic Affairs, Ministry of Finance. She is working in processed food and beverages sector, to analyse sales and purchase trends over the past decade and to forecast. She is also working on emerging market opportunities in the domestic and export markets, trade and services data analysis, countries service barriers and among others. She is also contributing to diverse projects related to India-EU, India-UK trade relations. Prior to joining ICRIER, she has worked on data analytics tools used for predicting cooking fuel demand in NITI Aayog, New Delhi. Subsequently, she has experience in retail sector and consumer sentiment analysis. She completed her MSc. in International Business Economics and Finance from Gokhale Institute of Politics and Economics, Pune and Bachelors in Economics (Hons.) from St. Xavier's College, Ranchi.
She has over 5 publications in the form of reports, working papers and articles.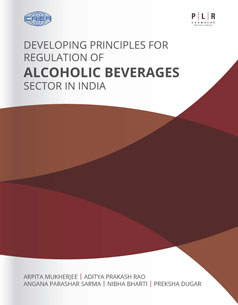 paperback • 2021 • 140 • 8.5x11 ISBN 9789332705708 • INR 1995