Download Catalogue...
Download Excel Data
Download PDF Catalogue
You will get a Excel file with detail about catalogue.
You will get PDF file with detail about catalogue.
About the Author
PRINT
Isha Dayal
---
Isha Dayal is a Research Assistant at ICRIER, associated with the project on "Strengthening Research and Promoting Multi-level Dialogue for Trade Normalization between India and Pakistan"' and the "Japan Project" funded by Sasakawa Peace Foundation (SPF), Japan. Prior to this, she has been an individual consultant to the United Nations Development Programme (UNDP), India, and has worked at Infrastructure Development Finance Company (IDFC Ltd.), New Delhi. Isha has a bachelor's degree in Economics from Miranda House, University of Delhi, and an MSc degree in Economic Development and Policy Analysis from the University of Nottingham, United Kingdom.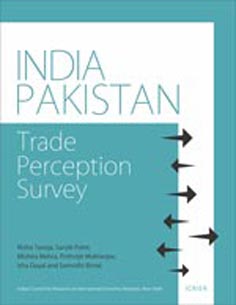 Paperback • 2014 • 80 • 8½ x 11 (inch) ISBN 9789332701267 • US$49.95