Download Catalogue...
Download Excel Data
Download PDF Catalogue
You will get a Excel file with detail about catalogue.
You will get PDF file with detail about catalogue.
About the Author
PRINT
Deepak Nayyar
---
Deepak Nayyar is Professor Emeritus at Jawaharlal Nehru University, New Delhi, and an Honorary Fellow of Balliol College, Oxford. Earlier, he has taught at the University of Oxford, the University of Sussex, the Indian Institute of Management, Calcutta, and the New School for Social Research, New York. He was Vice Chancellor of the University of Delhi from 2000 to 2005. He also served as Chief Economic Adviser to the Government of India and Secretary in the Ministry of Finance from 1989 to 1991. His research interests are primarily in the areas of international economics, macroeconomics and development economics. Prof Nayyar has published more than 75 papers in academic journals and 15 books. His latest book, Catch Up: Developing Countries in the World Economy, was published by Oxford University Press, Oxford.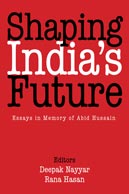 Essays in Memory of Abid Hussain
Hard-cover • 2017 • 246 • 6½ x 9¾ (inch) ISBN 9789332703841 • INR 1295