Download Catalogue...
Download Excel Data
Download PDF Catalogue
You will get a Excel file with detail about catalogue.
You will get PDF file with detail about catalogue.
About the Author
PRINT
Rana Hasan
---
Rana Hasan is an economist with a multilateral development institution. His research has focused on understanding how market-oriented economic reforms affect labour market outcomes and industrial performance, and the relationship between growth, poverty, and inequality in the Asia-Pacific region. He has worked previously as Fellow at the East-West Center (USA). His research has been published in various journals including Journal of Development Economics, Review of Economics and Statistics, and World Development. He has also co-edited two volumes on trade and labour related issues. He holds a PhD in Economics from the University of Maryland and a Masters' degree in Economics from the Delhi School of Economics, University of Delhi.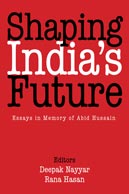 Essays in Memory of Abid Hussain
Hard-cover • 2017 • 246 • 6½ x 9¾ (inch) ISBN 9789332703841 • INR 1295