Download Catalogue...
Download Excel Data
Download PDF Catalogue
You will get a Excel file with detail about catalogue.
You will get PDF file with detail about catalogue.
About the Author
PRINT
Vijay Shankar Vyas
---
Vijay Shankar Vyas Professor Emeritus, Institute of Development Studies, Jaipur is currently a member of the Economic Advisory Council to the Prime Minister and also a member of the Central Board of Directors of Reserve Bank of India (RBI) and National Bank for Agriculture and Rural Development (NABARD).
Prof. Vyas, Ph.D in Economics from Bombay University, taught in Bombay University, Sardar Patel University and Institute of Management, Ahmedabad. He was a visiting scholar at the Boston University, U.S.A.
Prof. Vyas served as Director, Agro-Economic Research Centre for Western India; Director Indian Institute of Management (IIM) Ahmedabad; and Director, Institute of Development Studies (IDS, Jaipur).
He has served as Chairman / Member of various Boards, Committees and Commissions at the International, National and State Levels. He served as a member of the Board of Trustees of the International Food Policy Research Institute (Washington, U.S.A), member of the Governing Board of the Institute of Development Studies of Sussex University (U.K), member of the National Commission on Integrated Water Planning, member of the Scientific Advisory Committee to the Cabinet, and Member Agricultural Prices Commission of the Government of India.
Prof. Vyas has written extensively on key issues of agricultural policies and rural development, and has been honoured by academic community in India and abroad.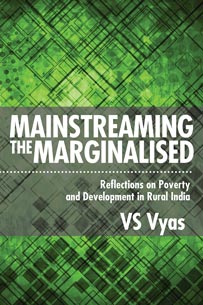 Reflections on Poverty and Developments in the Rural India
Hard-cover • 2015 • 224 • 6¼ x 9¼ (inch) ISBN 9789332703148 • US$59.95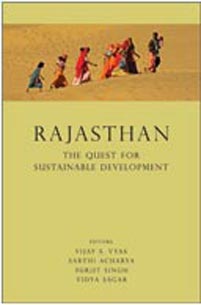 The Quest For Sustainable Devlopment
Hard-cover • 2007 • 380 • 5¾ x 9 (inch) ISBN 8171886213 • US$49.95
in the context of Millennium Goals
Hard-cover • 2005 • 172 • 5¾ x 9 (inch) ISBN 8171884563 • US$35.00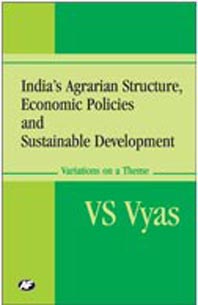 Hard-cover • 2003 • 398 • 5¾ x 9 (inch) ISBN 8171883230 • US$39.95