Download Catalogue...
Download Excel Data
Download PDF Catalogue
You will get a Excel file with detail about catalogue.
You will get PDF file with detail about catalogue.
About the Author
PRINT
Shreekant Sambrani
---
Shreekant Sambrani is an engineer (Indian Institute of Technology, Bombay/Northwestern University) and an economist (Cornell University). He is a management researcher/adviser. He was earlier Professor at Indian Institute of Management, Ahmedabad, Chief of the Research Bureau, The Economic Times and Founder-Director, Institute of Rural Management, Anand. He has advised numerous private, co-operative, government and international agencies on policy and strategy issues. He also writes on current events of social, olitical and economic significance.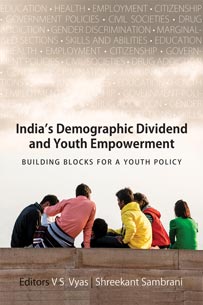 Building Blocks for a Youth Policy
Hard-cover • 2017 • 164 • 6¼ x 9¼ (inch) ISBN 9789332704183 • INR 995