Download Catalogue...
Download Excel Data
Download PDF Catalogue
You will get a Excel file with detail about catalogue.
You will get PDF file with detail about catalogue.
About the Author
PRINT
Shyam Chainani
---
SHYAM CHAINANI 1942 – 2010
Shyam Chainani obtained his B. Tech degree from IIT-Kharagpur, his MSc from Massachusetts Institute of Technology, USA and studied Industrial Management at Cambridge University, UK. He joined the Tata Administrative Service in 1966 and served with the Tata Group till he retired.
He was a Founder Member of the Save Bombay Committee in 1970 and established the Bombay Environmental Action Group (BEAG) in 1977, the flagship NGO through which he pursued a number of campaigns to protect the environment. Some of these are described in detail in his book Heritage and Environment, an Indian Diary published in 2007.
Among the numerous and wide-ranging causes which he addressed were the protection of the built heritage, the national environment (in particular the coastal zone), the re-location of large industrial projects away from eco-sensitive areas, the protection of hill stations, cantonments, and Nhava island.
His relentless lobbying, public interest litigation and participation on numerous Central and state government committees, led to the enactment of much legislation related to Urban Heritage Conservation, Coastal Zone Management and Protection of Eco-Sensitive Areas.
Shyam passed away prematurely after a valiant struggle with cancer, while he was in the process of completing four books. This book on the hard-fought struggle to save Nhava island, one of the earliest of Shyam's campaigns, is the first of these to be published.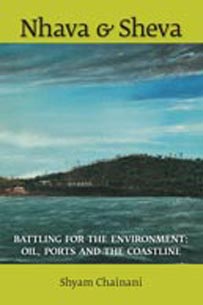 Battling for the Environment: Oil, Ports and the Coastline
Paperback • 2012 • 258 • 6 x 9 (inch) ISBN 9788171889655 • INR 695