Download Catalogue...
Download Excel Data
Download PDF Catalogue
You will get a Excel file with detail about catalogue.
You will get PDF file with detail about catalogue.
About the Author
PRINT
Munish Alagh
---
Munish Alagh is a Senior Fellow of Indian Council of Social Science Research (ICSSR), based at Sardar Patel Institute of Economic and Social Research, Ahmedabad. He has completed his PhD from University of Mumbai in the area of agricultural markets and price response. He has written three books and numerous articles. His academic papers have been published in reputed Indian journals such as Economic and Political Weekly, Indian Journal of Agricultural Economics etc. He has been teaching and doing research in reputed institutes for the last 20 years, including 10 years as a faculty of Economics in Ahmedabad University's MBA department.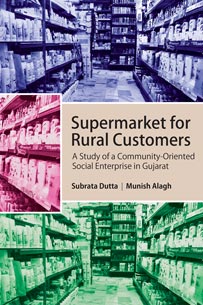 A Study of a Community-Oriented Social Enterprise in Gujarat
Hardcover • 2017 • 174 • 6.25 x 99.25 (inch) ISBN 9789332704275 • INR 995