Download Catalogue...
Download Excel Data
Download PDF Catalogue
You will get a Excel file with detail about catalogue.
You will get PDF file with detail about catalogue.
About the Author
PRINT
R. Srinivasan
---
R. Srinivasan is an Associate Professor in Econometrics, University of Madras. He has more than 25 years of experience in teaching and research in economics. He was a member of the State Planning Commission (2006-2011) and many other policy making and academic bodies. His researches have been in the areas of public finance and regional economics. His special interest in teaching of economics led him to organise periodic workshops for teachers of economics in schools and colleges to explore new teaching techniques and to reform economics curriculum. He has been extensively contributing on economic issues for both print and electronic media.
Paperback • 2019 • 125 • 8.5 x 11 (inch) ISBN 9789332704923 • INR 1295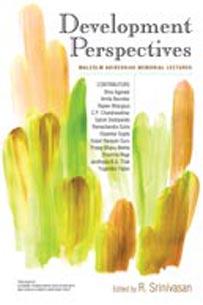 Malcolm Adiseshiah Memorial Lectures
Hard-cover • 2015 • 348 • 6¼ x 9¼ (inch) ISBN 9789332701779 • INR 1295