Download Catalogue...
Download Excel Data
Download PDF Catalogue
You will get a Excel file with detail about catalogue.
You will get PDF file with detail about catalogue.
About the Author
PRINT
E. Sridharan
---
E. Sridharan is the Academic Director of the University of Pennsylvania Institute for the Advanced Study of India (in New Delhi). He is a political scientist who has researched comparative politics, political economy of development, and international relations. He is the author or editor of 9 books and has published 58 journal articles and chapters in edited volumes. He is the Editor of India Review, a pan-social science refereed (Routledge, USA) quarterly on India, and is on the Editorial Board of the UK-based journal, Commonwealth and Comparative Politics. He did his PhD in Political Science from the University of Pennsylvania.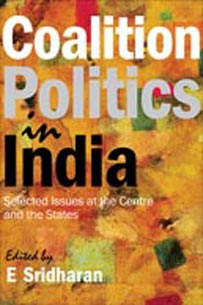 Selected Issues at the Centre and the States
Hard-cover • 2014 • 464 • 6¼ x 9¼ (inch) ISBN 9789332701472 • INR 1295