Detailed info...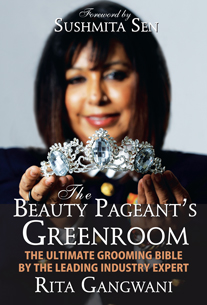 Hard-cover
• 2016

Pages: 272

ISBN: 9789332703803

INR 795
---
No 35, Sector 7, IMT Manesar, Gurgaon - 122050. Haryana
Telephone: +0124-4215070, 4215071.
Fax: +011-23245005.
Email:books@academicfoundation.com
The Beauty Pageant's Greenroom
The Ultimate Grooming Bible by the Leading Industry Expert
Foreword by Sushmita Sen
Description
The Beauty Pageant's Greenroom is an ultimate Bible of grooming. The essence of the book is to provide the reader a plethora of life skills....everything they would like to know about enhancing their personality, polishing social etiquette, being articulate, perfecting their style of dressing... basically projecting an image that unanimously stands out in the crowd.
As the name suggests, the book guides a beauty pageant contestant, smoothly and swiftly through the entire process of entering a pageant right from filling up the form to winning the glittering tiara.
The author has provided every aspect of grooming to the readers. The book is a gamut of the nuances of life skills for everyone who wishes to shine and glitter by grooming themselves just by holding a book and not having to go through the rigmarole of attending grooming workshops.
---
Praise for this book
It's been a lifetime since I won the glittering crown, proclaiming me a Miss India, the highest of the beauty pageants held in our nation. Exhilaration was what I could sum up in one word. It was big news and instantly catapulted me to fame. All was wonderful but coming from a family that believed all things are transient other than education I was compelled to put, my short lived pride on the back burner of ambition and return to college. For that, I am eternally grateful to my parents and grandparents. This is the sound advice I can give to today's contestant, gain as much knowledge as you can, it helps you in not only the international pageants but the life in store for you. Be focused and serious but not ruthless and insensitive. As clichéd as it may be true beauty that lasts is from within!
Rita has done a wonderful job with this book. I can't think of a single thing she has missed for a title holder. Not only contestants, but everyone will find something to work on in this book. It's a wholesome book on grooming,
etiquette and confidence building, and I wish her all success.
— Naina Balsaver
Indian actor, model and winner of Femina Miss India 1976
It is a very comprehensive book, covering all aspects of a beauty pageant. I can completely relate to this book because I know these are the essentials required to participate in a pageant.
This book would definitely be a great help to all the aspiring beauty queens and would take them steps closer to the crown.
In my initial years itself I was trained and groomed by Rita Gangwani. She is a great lady and knows exactly what you need to be a beauty queen. I would definitely recommend this book.
— Koyal Rana
Femina Miss India 2014
---
About the Author(s) / Editor(s)
Rita Gangwani nicknamed GURU-COOL by her students is an inspiring Indian motivational speaker, author, pageant coach, etiquette consultant, actress, healer and entrepreneur of international repute. Ranked very high amongst Indian motivational speakers, her seminars and workshops are well known for their high quality content backed by her unique and entertaining style of delivery. Her energizing sessions are insightful and stimulate participants to unleash their innate energies, fulfill their potential and create an intense desire for success and personal excellence.
She has been an expert as well as a jury for many prestigious national and international beauty pageants and contests. She has trained many aspiring models, beauty pageant contestants, some of whom have gone on to represent India at various prestigious pageants and contests all over the world.
For her exemplary work and commitment, she has been honoured by prestigious decorations year after year. To name a few, Rajiv Gandhi Lifetime Achievement Award, Lord Baden Powell National Award, National Award by Journalists Association of India, Aadhi Abadi Award, Indian Icon, Woman Role Model Award, Apar Sewa Samman, Rashtriya Sanskar Bhushan, Jewel of India, Kesari Woman, Indian Shakseeyat Award, PHD Premia Award and many more. She is also designated as one of the top ten thinkers of India by MTC Global.
---
---