Download Catalogue...
Download Excel Data
Download PDF Catalogue
You will get a Excel file with detail about catalogue.
You will get PDF file with detail about catalogue.
About the Author
PRINT
N.K. Sahu
---
N.K. Sahu belongs to Indian Economic Service (IES). He was the Economic Adviser in the Ministry of Rural Development (MoRD), Government of India, the nodal ministry which carried-out the Socio-Economic and Caste Census (SECC). He is the only person who worked for this project since its inception till it came to the final stage. His role was unique as he worked for the predecessor of this project, i.e. BPL Census 2002 as well as the SECC project. His PhD thesis is on "Analysis of Forced Commerce in Indian Agriculture" (unpublished) and has authored a book titled, Electoral Politics in Federal India: MP Local Area Development Scheme. At present, he is the Economic Adviser, Ministry of Human Resource Development, Government of India, New Delhi.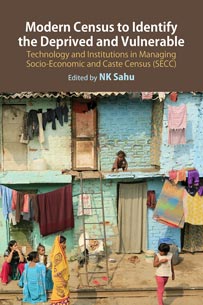 Technology and Institutions in Managing Socio-Economic and Caste Census (SECC)
Hard-cover • 2018 • 230 • 6¼ x 9¼ (inch) ISBN 9789332704619 • US$59.95