Download Catalogue...
Download Excel Data
Download PDF Catalogue
You will get a Excel file with detail about catalogue.
You will get PDF file with detail about catalogue.
About the Author
PRINT
Deepmala Pokhriyal
---
Deepmala Pokhriyal is a Consultant at ICRIER. She has worked on the assessment of the regulations of the clinical trials industry in India, and recommending potential changes based on the industry's global environment. She is also a graduate student at the Andrew Young School of Policy Studies, Georgia State University. Prior to this, she was engaged in a NABARD-sponsored project on evaluation of rural connectivity projects in Gujarat at Indian Institute of Management, Ahmedabad. She holds a graduate degree in Economics from Gokhale Institute of Politics and Economics, Pune.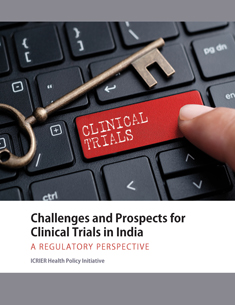 A Regulatory
Paperback • 2017 • 88 • 8½ x 11 (inch) ISBN 9789332704268 • US$69.95