Download Catalogue...
Download Excel Data
Download PDF Catalogue
You will get a Excel file with detail about catalogue.
You will get PDF file with detail about catalogue.
About the Author
PRINT
Rita Gangwani
---
Rita Gangwani nicknamed GURU-COOL by her students is an inspiring Indian motivational speaker, author, pageant coach, etiquette consultant, actress, healer and entrepreneur of international repute. Ranked very high amongst Indian motivational speakers, her seminars and workshops are well known for their high quality content backed by her unique and entertaining style of delivery. Her energizing sessions are insightful and stimulate participants to unleash their innate energies, fulfill their potential and create an intense desire for success and personal excellence.
She has been an expert as well as a jury for many prestigious national and international beauty pageants and contests. She has trained many aspiring models, beauty pageant contestants, some of whom have gone on to represent India at various prestigious pageants and contests all over the world.
For her exemplary work and commitment, she has been honoured by prestigious decorations year after year. To name a few, Rajiv Gandhi Lifetime Achievement Award, Lord Baden Powell National Award, National Award by Journalists Association of India, Aadhi Abadi Award, Indian Icon, Woman Role Model Award, Apar Sewa Samman, Rashtriya Sanskar Bhushan, Jewel of India, Kesari Woman, Indian Shakseeyat Award, PHD Premia Award and many more. She is also designated as one of the top ten thinkers of India by MTC Global.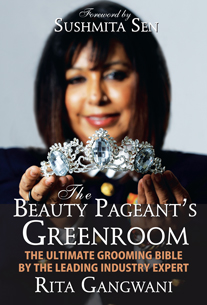 The Ultimate Grooming Bible by the Leading Industry Expert
Hard-cover • 2016 • 272 • 6¼ x 9¼ (inch) ISBN 9789332703803 • US$44.95