Download Catalogue...
Download Excel Data
Download PDF Catalogue
You will get a Excel file with detail about catalogue.
You will get PDF file with detail about catalogue.
About the Author
PRINT
Geeta Potaraju
---
Geeta Potaraju, Assistant Professor at the IPE, Hyderabad, is a PhD in Management with specialisation on public sector enterprises. She has over 15 years of experience in management and development consulting. Her areas of expertise include: participatory governance and civic engagement, health system strengthening, administrative reforms, institutional reforms, change management and capacity building. She has been involved in a number of key assignments with DFID, UNDP, World Bank, World Bank Institute, Family Health International, Government of India and state governments. She is an expert on participatory governance tools like citizens' charters and community score cards, and has trained a number of officials from Government of India as well as other state governments on these tools.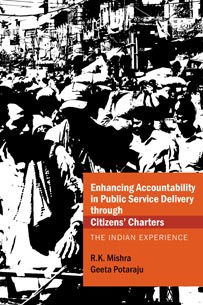 The Indian Experience
Hard-cover • 2015 • 178 • 6¼ x 9¼ (inch) ISBN 9789332703094 • US$49.95