Download Catalogue...
Download Excel Data
Download PDF Catalogue
You will get a Excel file with detail about catalogue.
You will get PDF file with detail about catalogue.
About the Author
PRINT
S.R. Hashim
---
S.R. Hashim is Director of Institute for Studies in Industrial Development, New Delhi. His original work on method of measuring capital stock, published in the book Capital-Output Relations in Indian Industries (in co-authorship with Dr. M.M. Dadi) is well regarded in literature as a seminal contribution. He has since extensively worked and written on issues relating to poverty and inequality, water and agriculture and small scale industries.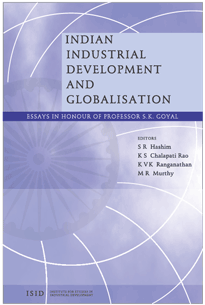 Essays in Honour of Professor S.K. Goyal
Hard-cover • 2008 • 900 • 6¼ x 9¼ (inch) ISBN 9788171887224 • US$99.95