Download Catalogue...
Download Excel Data
Download PDF Catalogue
You will get a Excel file with detail about catalogue.
You will get PDF file with detail about catalogue.
About the Author
PRINT
R. Hema
---
R. Hema is Associate Professor at the Madras School of Economics. Her Doctoral dissertation was on optimal pricing in the electricity sector. Subsequently she has been working on various topics relating to the electricity sector - financial performance, regulatory mechanisms, institutional restructuring. She visited the University of California at Berkeley during 1991-92 as a Ford Foundation Post-Doctoral Fellow. Was associated with a programme on International Comparison of Electricity Regulation at the Energy Institute there.
She has been on the faculty of Tata Energy Research Institute, New Delhi, Madras Institute of Development Studies, Chennai and adjunct faculty at DePaul University, Chicago. She has been associated with many studies on the power sector that were sponsored by the Asian Development Bank, Power Finance Corporation, Tamil Nadu Electricity Board, Planning Commission etc. and also with a study on Social Exclusion, sponsored by the International Labour Organisation. She has made contributions to the Vision 2020 Document for the Union Territory of Pondicherry and the Tamil Nadu State Development Report.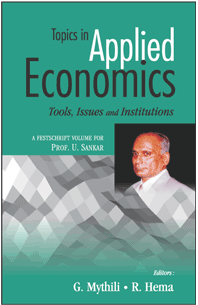 Tools, Issues and Institutions
Hard-cover • 2005 • 365 • 5¾ x 9 (inch) ISBN 8171883656 • US$39.95