Download Catalogue...
Download Excel Data
Download PDF Catalogue
You will get a Excel file with detail about catalogue.
You will get PDF file with detail about catalogue.
About the Author
PRINT
Uttam Kumar Sinha
---
Uttam Kumar Sinha is a Fellow at IDSA, New Delhi. He is also the assistant editor of Strategic Digest and Member, Editorial Board, Strategic Analysis. He is a PhD in International Politics and before joining IDSA was in the editorial team of The Pioneer and wrote the weekly column titled Strategic Eye. He is a visiting fellow to PRIO (International Peace Research Institute, Oslo) and Visiting Professor at the Malviya Centre for Peace Research, BHU (Banaras Hindu University, Varanasi). He has edited "UN Multilateralism and International Security" and is co-author of the book "Iraq War 2003: Rise of the New Multilateralism". He was awarded the 2008 Indo-British Chevening Gurukul Scholarship at the London School of Economics and Political Science (LSE).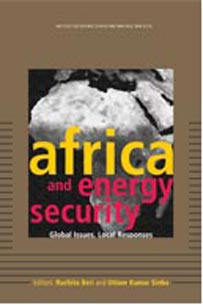 Global Issuess, Local Responses
Hard-cover • 2009 • 260 • 6¼ x 9¼ (inch) ISBN 9788171887545 • US$44.95