Download Catalogue...
Download Excel Data
Download PDF Catalogue
You will get a Excel file with detail about catalogue.
You will get PDF file with detail about catalogue.
About the Author
PRINT
Debashis Chakraborty
---
Debashis Chakraborty is Assistant Professor at the Indian Institute of Foreign Trade, New Delhi. Debashis has been educated at University of Calcutta and Centre for International Trade and Development, Jawaharlal Nehru University (JNU), New Delhi. He has worked on issues pertaining to international trade policy, WTO issues and Indian economic development, and published his research at various academic and policy forums in India and abroad. He has earlier worked in Rajiv Gandhi Institute for Contemporary Studies (RGICS), New Delhi as a researcher. Debashis has recently edited two titles on WTO and is currently working on a manuscript relating to Contract Farming in India.
Hard-cover • 2007 • 208 • 6¼" x 8¾" ISBN 8171885896 • US$45.95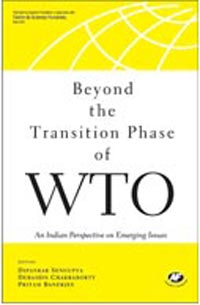 An Indian Perspective on Emerging Issues
Hard-cover • 2006 • 683 • 6¼ x 9¼ (inch) ISBN 8171885101 • US$79.95
A Cross - Country Perspective
Hard-cover • 2006 • 146 • 5¾ x 9 (inch) ISBN 817188511X • US$39.95