Download Catalogue...
Download Excel Data
Download PDF Catalogue
You will get a Excel file with detail about catalogue.
You will get PDF file with detail about catalogue.
About the Author
PRINT
Vishwa Ballabh
---
Vishwa Ballabh is currently Reserve Bank of India Chair Professor at the Institute of Rural Management, Anand (Gujarat, India). Professor Ballabh graduated in Agriculture from Pant Nagar and holds a Ph.D. in Agricultural Economics from Indian Agricultural Research Institute, New Delhi. He has been a Post-Doctoral Fellow at the Inter-national Crop Research Institute for the Semi Arid Tropics (ICRISAT) and was a Visiting Scholar at the Indiana University, USA and a Visiting Scientist at the International Rice Research Institute, Philippines. He has over twenty years of teaching and research experience. His major area of research interest has been institutions and natural resource management. He is a member of several national and international professional societies in agricultural, natural resource economics and development fields.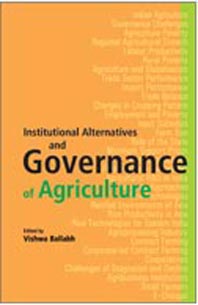 Hard-cover • 2007 • 338 • 6 x 9 (inch) ISBN 8171886019 • US$49.95