Download Catalogue...
Download Excel Data
Download PDF Catalogue
You will get a Excel file with detail about catalogue.
You will get PDF file with detail about catalogue.
About the Author
PRINT
S.S. Tarapore
---
Savak Sohrab Tarapore, BA (Honours) Economics, Sheffield University (1958), MSc (Economics), London University (1960) and Doctor of Laws, honoris causa, Sheffield University (1996), was a career central banker who joined the Reserve Bank of India (RBI) as Research Officer in 1961 and retired as Deputy Governor in 1996. During the period 1971-1979, he was seconded to the International Monetary Fund (IMF). Since retirement, he has chaired a number of official Committees/Boards and has been a regular columnist successively for the Business Standard, the Financial Express and the Divya Bhaskar. Currently he is a regular columnist for the Hindu Business Line. He also runs a syndicated column which appears in five languages. He is a member of the Court of Governors of the Administrative Staff College of India, Hyderabad, a distinguished fellow of the Skoch Development Foundation, New Delhi and a member of the Gold Advisory Board of the American Principles Project (Washington DC, USA).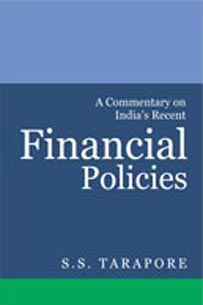 Hard-cover • 2013 • 334 • 6¼ x 9¼ (inch) ISBN 9788171889662 • US$59.95
The Indian Context
Hard-cover • 2010 • 318 • 6¼ x 9¼ in ISBN 9788171888061 • US$59.95