Download Catalogue...
Download Excel Data
Download PDF Catalogue
You will get a Excel file with detail about catalogue.
You will get PDF file with detail about catalogue.
About the Author
PRINT
Vishnu Bhagwat Khedkar
---
Vishnu Bhagwat Khedkar is a Post Graduate in Agricultural Engineering and has worked for around a decade in the field of rural development with special focus on NRM-based livelihood. He was in-charge of the Dungarpur-based CII team that piloted the Public-Private-Community Partnership pilot in the district. He has also worked as a Co-Project Investigator for the Farmers Participatory Action Research Programme (FPARP) for demonstrating micro-irrigation techniques and efficient management of water resources for enhanced agricultural productivity.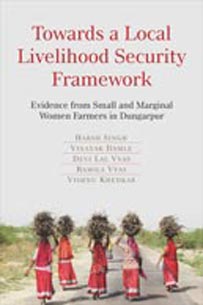 Evidence from Small and Marginal Women Farmers in Dungarpur
Hard-cover • 2013 • 132 • 6¼ x 9¼ (inch) ISBN 9789332700154 • US$39.95