Download Catalogue...
Download Excel Data
Download PDF Catalogue
You will get a Excel file with detail about catalogue.
You will get PDF file with detail about catalogue.
About the Author
PRINT
T.V. Sekher
---
T.V. Sekher is Associate Professor, International Institute for Population Sciences (IIPS), Mumbai. Trained in demography and sociology, his areas of research interests are social demography, gender issues, public health, population policies and ageing. He was a Visiting Fellow at the Wellcome Trust Centre of University of London, Maison de Sciences la Homme, Paris and Lund University in Sweden; and was Consultant to UNFPA. He is the Managing Editor of the professional journal Demography India. Dr Sekher has authored and edited 6 books and has more than 50 research articles in national and international journals.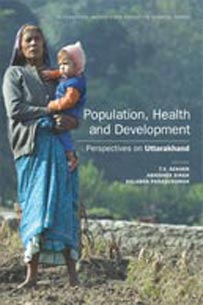 Perspectives on Uttarakhand
Hard-cover • 2013 • 558 • 6¼ x 9¼ (inch) ISBN 9788171889464 • US$89.95