Download Catalogue...
Download Excel Data
Download PDF Catalogue
You will get a Excel file with detail about catalogue.
You will get PDF file with detail about catalogue.
About the Author
PRINT
Institute For Human Development /government Of Nct Of Delhi
---
The Institute for Human Development (IHD) was established in 1998 under the aegis of the Indian Society of Labour Economics (ISLE) as a non-profit autonomous institution by a group of senior social scientists and policy analysts. Through its corpus of research, analysis and policy recommendations, the Institute has made contributions across a range of priority areas, such as labour, employment, poverty, social security, development policy and planning, governance and decentralization, education, health, gender, etc. Over the years, the Institute has emerged as an important centre for study in human development poverty and livelihoods and related issues. In order to achieve its goals, IHD engages in academic and policy research; policy advocacy; teaching and training; academic and policy debates and dissemination; publication of different research and knowledge products; and networking with other institutions and various stakeholders. The Institute biannually publishes the Indian Journal of Human Development, exclusively devoted to contemporary discourses and empirical research on focal themes of human development.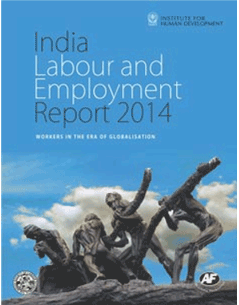 Workers in the Era of Globalization
Paperback • 2014 • 248 • 8½ x 11 (inch) ISBN 9789332701205 • INR 995.00