New Releases...
Download Catalogue...
Download Excel Data
Download PDF Catalogue
You will get a Excel file with detail about catalogue.
You will get PDF file with detail about catalogue.
Detailed info...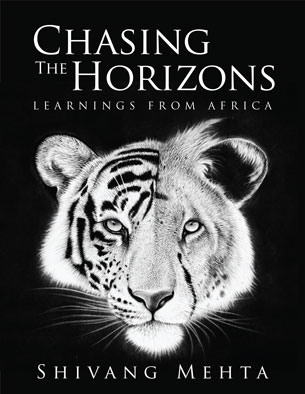 Hard-cover • 2019
Pages: 200
ISBN: 9789332705111
+ Add to Cart
---
Publisher:
Academic Foundation
Chasing the Horizons
Learnings from Africa
---
About the Book
Chasing the Horizons: Learnings from Africa, is Shivang Mehta's second book, after the best selling A Decade with Tigers. This book is a unique compilation of the author's experiences in wild Africa—a continent where Shivang has spent a decade photographing and understanding its wildlife and landscapes. With an extensive knowledge and understanding of the Indian forests, Shivang's second book chronicles his time in Africa, drawing an interesting comparison of perspectives by a photographer working in both Indian and African landscapes. Describing his photographic learnings from his on-field hours in Africa, Shivang juxtaposes various natural history moments he has witnessed in the continent with an array of similar images recreated in the Indian forests. As light and creativity are the main driving forces in his photographic journey, Shivang's images and text in the book explain the paradigm shift in his outlook which he has internalised over the years. With an extensive set of images created over such a vast period of time, the book also brings forth how his observations in Africa have only strengthened the respect and pride that the author has for Indian wildlife.
---
About the Author(s) / Editor(s)
Shivang Mehta, Best selling author of 'A Decade with Tigers,' and International Award winning wildlife photographer, Shivang Mehta has donned many hats in his long career journey, including that of a Journalist and a PR Professional. His love for wildlife and nature led him to begin his on field career in the Sal forests of Kumaon 16 years ago. Shivang is the managing director of Nature Wanderers, India's premier wildlife photo tour organisation, which he started with his wife, Kahini Ghosh Mehta in 2007. Having conducted over 1000 wildlife photography workshops and tours, along with many unique wildlife events and mentoring over a thousand amateur photographers and being a guide for the best of professional wildlife photographers, Shivang specialises in photographing rare species using DSLR camera trap technology. The author is also a Canon Photo Mentor, a Columbia Athlete and has been published in numerous national and international publications.
---
---
Print Brochure...
Print as it is
Customised brochure
You will get a printout of what you see on your screen under 'Detailed Info'(Uneditable).
You will have the opportunity to edit the text and adjust the extent to fit on A4 size sheet or more accordingly as you desire. Plus, you can download the edited/customised Brochure or simply print it (CTRL + P).