New Releases...
Download Catalogue...
Download Excel Data
Download PDF Catalogue
You will get a Excel file with detail about catalogue.
You will get PDF file with detail about catalogue.
Detailed info...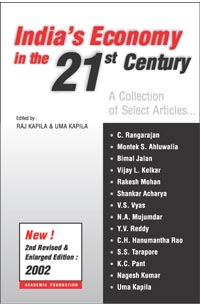 Paperback • 2002
Pages: 440
ISBN: 8171882663
US$25.00
+ Add to Cart
---
Publisher:
Academic Foundation
India's Economy in the 21st Century
About the Author(s) / Editor(s)
RAJ KAPILA :
Raj Kapila is the Director and Chief Editor of Academic Foundation, Delhi. He has written extensively and is also the author the following publications : The story of Industrialisation : Industries the world Over ( 1962 ), The Time Demands : A politico-Economic Analysis of Present-day India ( 1966 ), India at Cross : After 25 years of Independence ( 1972 ). Recently he co-edited with Dr. Uma Kapila, a six volume study entitled Understanding India's Economic Reforms. This was very well received and consequently led to the evolution of the concept of " updates " on Indian Economy. Together, they have also edited banking & Financial sector Reforms in India ( 6 vols.,1998). Presently, he is co-editing with Dr. Uma Kapila book series entitled Economic Developments In India.

UMA KAPILA :
Uma Kapila is Reader in the Department of Economics, Miranda House, University of Delhi. she has been a keen student of current Indian economic problems and has been teaching this subject to undergraduate and post-graduate student of the last forty years.
As a teacher-fellow at the center for advanced studies, Delhi School of Economics (1976-79), Mrs. Kapila completed her Ph.D. on " Oilseeds Economy of India. " she has also served on the Planning Commission Study Group on " Agricultural Strategies in the Eastern Region of India for the seventh Five Year Plan" (Perspective planning Division).

Dr. (Mrs.) Uma Kapila is the author of the book "Oilseeds Economy of India" (1982) published by the Institute of Economic Growth under their series " Studies in Economic Development and Planning". She is the editor of the widely read book entitled "Indian Economy Since Independence", currently into its eleventh edition. She also edited five volume on Indian Economy entitled Recent Development in India Economy with special reference to Structural Reforms. She is, presently, Co-edited with Mr. Raj Kapila, book series on economic developments and on banking and financial sectors developments.
---
---
Print Brochure...
Print as it is
Customised brochure
You will get a printout of what you see on your screen under 'Detailed Info'(Uneditable).
You will have the opportunity to edit the text and adjust the extent to fit on A4 size sheet or more accordingly as you desire. Plus, you can download the edited/customised Brochure or simply print it (CTRL + P).