Detailed info...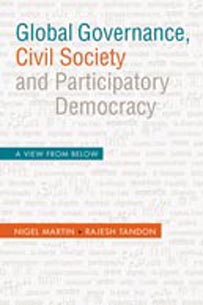 Hard-cover
• 2014

Pages: 188

ISBN: 9789332701496

US$49.95
---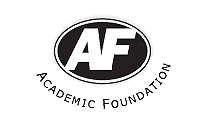 No 35, Sector 7, IMT Manesar, Gurgaon - 122050. Haryana
Telephone: +0124-4215070, 4215071.
Fax: +011-23245005.
Email:books@academicfoundation.com
Global Governance, Civil Society and Participatory Democracy
A View from Below
Description
In order to democratise governance at the global level, it is imperative to ensure that the voice of ordinary citizens, especially the most excluded, are heard and acted upon. What forms of direct citizen engagement in the arenas, platforms and mechanisms of global governance can promote this? Which of these forms and processes can be institutionalised? What mechanisms of democratic accountability can be enabled to make representative forms of global governance institutions accountable to the citizens of their own countries?

Global Governance, Civil Society and Participatory Democracy: A View from Below answers these questions through the experiences of FIM Forum for Democratic Global Governance in democratising certain arenas and spaces of global governance. Such arenas are not only the powerful and global multilateral organisations of the UN system; they include supra-regional inter-governmental organisations such as the Commonwealth, the OIF, the OIC, as well as the G8, G20 and BRICS. FIM has facilitated connections and relationships within such key organisations of the multilateral sphere. By building these connections, FIM has actualised the exchange between local lived realities and the high level decisions that affect global governance.
The lessons of FIM's engagement in the processes, challenges and outcomes of building democracy from below are relevant for civil society actors and policy makers alike. The book is a must read for all those engaged in facilitating, scaling-up and strengthening the mechanisms of participatory democracy in order to create global citizens who become agents of change for a better world.
---
Praise for this book
Civil society participation in global governance brings to bear an issue of interest in negotiating processes dominated by the articulation of country interests and provides a voice to a growing transnational public interest. This book is a splendid record of the efforts of FIM to structure these two dimensions of civil society engagement and should be read for profit by anyone interested in democratising global governance.
— Nitin Desai, formerly Under-Secretary General, United Nations
[This book] focuses on the need to engage with multilateralism. FIM's work draws attention to a level of governance that has an impact on our lives but which we do not often understand.... If participatory democracy is to be meaningful, its tenets must penetrate the opaque walls of multilateral institutions and reflect the voices of the people: "Nothing for us without us"…. Active CSO engagement is a must...
— Bilkisu Yusuf, Executive Director, AdvocacyNigeria
For the first time we have an insightful history of the origins and development of civil society in global institutions based on the personal contributions of two outstanding practitioners. Martin and Tandon bring expert experience and perspectives to the evolution of participatory democracy. This book is essential reading for diplomats, Sherpas, and others involved in the enterprise of global institutions.
— V. Peter Harder, Senior Policy Advisor, Dentons Canada LLP,
and former G8 Sherpa for Canada
---
About the Author(s) / Editor(s)
Nigel Martin is the founding President and CEO of FIM. He has over 35 years of experience in the NGO community in Canada and elsewhere and has served as Executive Director of several organisations, including the Canadian Council for International Cooperation in Ottawa (Canada), Euro Action Accord in London (UK), as well as the Organization Canadienne pour la Solidarité et le Développement and Oxfam-Québec in Montreal (Canada). Nigel began his career with the Canadian International Development Agency in 1971, where he was one of the earliest staff members of the then-fledgling NGO programme. He was a member of the Steering Committee of the United Nations Development Programme Platform HD2010 and has been an official advisor on development issues to both the Government of Canada and the Government of Quebec. He has served on several boards of directors including the Carold Foundation Board in Toronto.
He is also an initiator and co-founder of the World Bank NGO committee and Mothers' Call International. Nigel has previously contributed to Practice-Research Engagement and Civil Society (The Hauser Center, Harvard University, 2001); Critical Mass: The Emergence of Global Civil Society (Wilfred Laurier University Press, 2008) and has written the Foreword to Democratizing Global Governance: Ten Years of Case Studies and Reflections by Civil Society Activists (Mosaic Books, 2009).

Rajesh Tandon is an internationally acclaimed leader and practitioner of participatory research and development. He founded Participatory Research in Asia (PRIA), a voluntary organisation providing support to grassroots initiatives in South Asia and has been its Chief Functionary since 1982. He has recently been appointed Co-Chair of the prestigious UNESCO Chair on Community Based Research and Social Responsibility in Higher Education.
A renowned authority on participatory research, he has championed the cause of building organisations and capacities of the marginalised through their knowledge, learning and empowerment. He has contributed to the emergence of several local, national and international groups and initiatives to promote authentic and participatory development of societies. He has authored more than 100 articles, a dozen books and numerous training manuals on democratic governance, civic engagement, civil society, governance and management of NGOs, participatory research and people-centred development. For his distinguished work on gender issues, the Government of India honoured him with the prestigious Award in Social Justice in March 2007. The University of Victoria, Canada, awarded Dr Tandon the degree of Doctor of Laws (Honoris Causa) in June 2008. He is the first Indian to be inducted to the International Adult and Continuing Education (IACE) Hall of Fame (class of 2010).
---
---