Download Catalogue...
Download Excel Data
Download PDF Catalogue
You will get a Excel file with detail about catalogue.
You will get PDF file with detail about catalogue.
About the Author
PRINT
Harsh Singh
---
Harsh Singh has a rich cross-institutional background. He served in the Indian Economic Service for a decade and in UNDP India (1992 to 2009) as Assistant Resident Representative and Programme Advisor. He now heads the consultancy, Market Solutions for Inclusion. He has authored the books, Creating Vibrant Public-Private-Panchayat Partnership and Structural Innovation for Inclusive Development in Bihar: The Navodaya Shahar Model, both published by the Academic Foundation.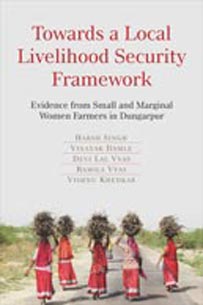 Evidence from Small and Marginal Women Farmers in Dungarpur
Hard-cover • 2013 • 132 • 6¼ x 9¼ (inch) ISBN 9789332700154 • INR 695
The Navodaya Shahar Model
Hard-cover • 2012 • 176 • 6¼ x 9¼ (inch) ISBN 9788171889242 • INR 695
FOR INCLUSIVE GROWTH THROUGH INCLUSIVE GOVERNANCE
Paperback • 2010 • 62 • 8½ x 11 (inch) ISBN 9788171888313 • INR 695.00