Download Catalogue...
Download Excel Data
Download PDF Catalogue
You will get a Excel file with detail about catalogue.
You will get PDF file with detail about catalogue.
About the Author
PRINT
Dawid Danilo Bartelt
---
Dawid Danilo Bartelt studied History and Social Sciences in Bochum, Hamburg, Berlin (Germany) and Recife (Brazil). As a historian, he specialized on Brazilian and Latin American history, completing his Ph.D. in 2001. He worked as a journalist and as Senior press officer for NGOs, including the German Section of Amnesty International since 2002 until 2010 when he joined the Heinrich Böll Foundation to head the Foundation's office in Rio de Janeiro, Brazil. Since 2017, he is the head of the Mexico and Caribe office of Heinrich Böll Foundation in Mexico City. His publications include numerous articles and radio programmes and several books as author and editor.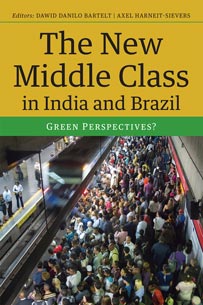 Green Perspectives?
Hard-cover • 2017 • 279 • 6.25 x 9.25 (inch) ISBN 9789332704145 • INR 1495