Download Catalogue...
Download Excel Data
Download PDF Catalogue
You will get a Excel file with detail about catalogue.
You will get PDF file with detail about catalogue.
About the Author
PRINT
K.V. ANANTHA Kumar
---
K.V. Anantha Kumar, Assistant Professor at IPE, Hyderabad, is Mechanical Engineer and MBA (Marketing) from Osmania University. He was awarded PhD in 2006 for his research work on "Marketing Strategies of Life Insurance Corporation of India: A Comparative Study". Dr Ananth is on the editorial board of "Drishtikon", a journal enlisted in Ulrich, Cabell's Directory and EBSCO. His areas of interest include: micro insurance, customer relationship management, customer satisfaction, evaluation studies.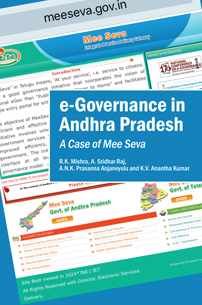 A Case of Mee Seva
Hard-cover • 2017 • 148 • 6.25 x 9.25 (inch) ISBN 9789332701663 • INR 1195