Download Catalogue...
Download Excel Data
Download PDF Catalogue
You will get a Excel file with detail about catalogue.
You will get PDF file with detail about catalogue.
About the Author
PRINT
A.N.K. PRASANNA Anjaneyulu
---
A.N.K. Prasanna Anjaneyulu has 14 years of teaching experience at Engineering and Post Graduate colleges. He was Associate Member of Technologist at Institution of Engineers (India), Kolkata and worked at Engineering Staff College of India (The Forum of Institution of Engineers), Hyderabad, before joining IPE. His areas of specialisation include: enterprise resource planning, software testing, data warehousing, data mining, web mining, relational database management system and programming languages.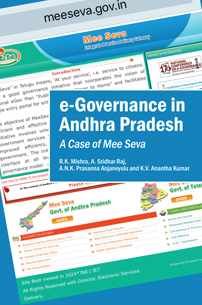 A Case of Mee Seva
Hard-cover • 2017 • 148 • 6.25 x 9.25 (inch) ISBN 9789332701663 • INR 1195