Download Catalogue...
Download Excel Data
Download PDF Catalogue
You will get a Excel file with detail about catalogue.
You will get PDF file with detail about catalogue.
About the Author
PRINT
V.S. Krishnan
---
V.S. Krishnan is a senior civil servant belonging to the Indian Revenue Service with wide experience in handling matters relating to Indirect Tax Policy. In the early part of his career he served as the Member of the Tax Research Unit, where he was associated with the formulation of four Union Budget. He has worked extensively on improving the Compliance Verification system through contributions to the preparation of the Audit Manual (under a Canadian Project) and a Return Scrutiny model (under the Asian Development Bank). He was conferred with the Presidential award for his Distinguished Record in 1999. He was closely associated with the evolution of the GST and was also Director on the board of GSTN.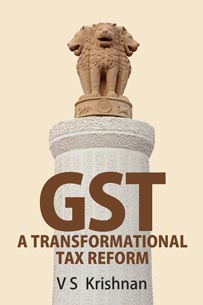 Hardcover • 2018 • 192 • 6.25 x 9.25 (inch) ISBN 9789332704688 • INR 1295