Download Catalogue...
Download Excel Data
Download PDF Catalogue
You will get a Excel file with detail about catalogue.
You will get PDF file with detail about catalogue.
About the Author
PRINT
Anita Arya
---
is an Associate Professor of Economics at SPIESR, Ahmedabad. Her areas of interest are: macroeconomics, agricultural economics, development economics, rural development, agricultural marketing, human development and industrial economics. She has coordinated courses in macroeconomics at the Institute for doctoral students/lecturers, and has been a resource person/observer in the research methodology courses, and macroeconomic courses sponsored by Indian Council of Social Science (ICSSR), New Delhi. She has authored/co-authored several research papers published in reputed journals and
in edited books. Dr Arya is chief editor of the house journal, Anvesak.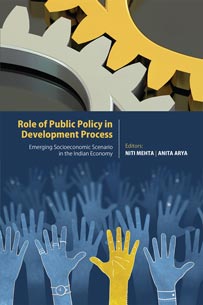 Emerging Socioeconomic Scenario in the Indian Economy
Hard-cover • 2018 • 450 • 6¼ x 9¼ (inch) ISBN 9789332704213 • INR 1695