Download Catalogue...
Download Excel Data
Download PDF Catalogue
You will get a Excel file with detail about catalogue.
You will get PDF file with detail about catalogue.
About the Author
PRINT
Pallavi Joshi
---
Pallavi Joshi is a Research Associate at ICRIER, and is working on governance and regulatory aspects of healthcare sector and pharmaceutical industry, for publications under Health Policy Initiative. Previously, she has worked with Competition Commission of India, where she was involved in analysing competition issues in various sectors, in particular—healthcare sector, and pharmaceutical industry. She has also worked with Standard & Poor's Capital IQ, a business research firm. Her core areas of interest include development economics, health economics, pharmaceutical regulation, behavioural economics, and competition law. She holds a Masters degree in Economics.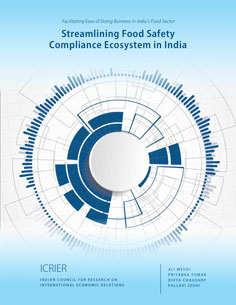 Paperback • 2019 • 52 • 8.5x11 (inch) ISBN 9789332705142 • INR 1495
Opportunities for India
Paperback • 2017 • 84 • 8½ x 11 (inch) ISBN 9789332704251 • INR 1495