Download Catalogue...
Download Excel Data
Download PDF Catalogue
You will get a Excel file with detail about catalogue.
You will get PDF file with detail about catalogue.
About the Author
PRINT
Seema Rao
---
Seema Rao is an External-Consultant at ICRIER. She is a practicing advocate in the Supreme Court of India and Delhi High Court. She has been a Panel lawyer for the Government in the Supreme Court as well as Standing Counsel on behalf of Ministry of Environment and Forest in the National Green Tribunal. During this time she dealt with matters relating to key policy making issues in environment laws, company laws, criminal laws, PILs etc. She has various national and international publications to her credit on topics relating to criminal laws, banking, environment laws etc.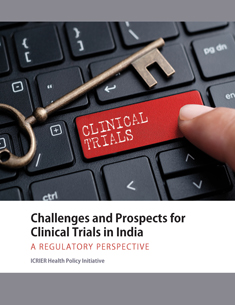 A Regulatory
Paperback • 2017 • 88 • 8½ x 11 (inch) ISBN 9789332704268 • INR 1495