Download Catalogue...
Download Excel Data
Download PDF Catalogue
You will get a Excel file with detail about catalogue.
You will get PDF file with detail about catalogue.
About the Author
PRINT
K. Prabhakar
---
K. Prabhakar is Assistant Professor, Centre for Good Governance & Policy Analysis (CGGPA) at NIRD&PR, Hyderabad. His research interests lie in the area of planning, monitoring, evaluation, governance, service delivery, decentralisation, and budget and policy analysis. He is involved in using different social accountability tools like Community Score Cards (CSC), Social Audits, Public Expenditure Tracking Surveys (PETS), Citizen Report Cards (CRC) and CRC+ for different contexts. He is associated with various international and national premier institutes.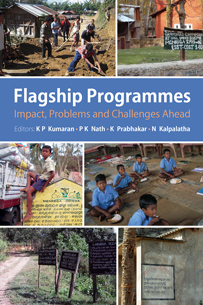 Impact, Problems and Challenges Ahead
Hard-cover • 2017 • 766 • 6¼ x 9¼ (inch) ISBN 9789332703711 • INR 1495