Download Catalogue...
Download Excel Data
Download PDF Catalogue
You will get a Excel file with detail about catalogue.
You will get PDF file with detail about catalogue.
About the Author
PRINT
K.P. Kumaran
---
K.P. Kumaran has more than three decades of professional experience in research and training in the field of rural and urban development. He has to his credit several articles and books published both by the national and international publishers. Currently, he is working as consultant to Centre for Planning, Monitoring and Evaluation (CPME) at National Institute of Rural Development and Panchayati Raj (NIRD&PR), Hydera-bad. Prior to this, he held important positions like Prof & Head, CPME and Prof & Head, Centre for Media and Rural Documentation, NIRD&PR, Hyderabad. He has also worked as Professor-Urban Basic Services for the Poor at the Institute of Management in Government, Thiruvanathapuram, Kerala.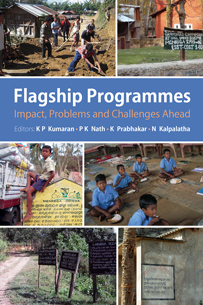 Impact, Problems and Challenges Ahead
Hard-cover • 2017 • 766 • 6¼ x 9¼ (inch) ISBN 9789332703711 • INR 1495