Download Catalogue...
Download Excel Data
Download PDF Catalogue
You will get a Excel file with detail about catalogue.
You will get PDF file with detail about catalogue.
About the Author
PRINT
Parthasarathi Shome
---
Parthasarathi Shome is Chairman, International Tax Research and Analysis Foundation (ITRAF), Bengaluru. Prior to that he was Adviser (Minister of State) to the Indian Finance Minister, and Chief Economist, Her Majesty's Revenue and Customs (HMRC), United Kingdom. Earlier he was Chief of Tax Policy, International Monetary Fund (IMF), and Professor of Economics, The American University, Washington DC. He received the highest civilian honour of the Brazilian Government, Commander of the Order of the Southern Cross, and the Jeanne S. Mattersdorf Award of the National Tax Association of America as "an outstanding student in the field of taxation and public finance" for his PhD thesis from Southern Methodist University.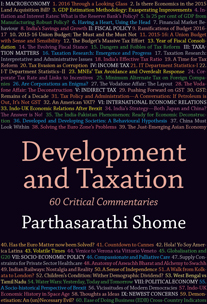 60 Critical Commentaries
Hard-cover • 2017 • 326 • 6¼ x 9¼ (inch) ISBN 9789332703889 • INR 1295