Download Catalogue...
Download Excel Data
Download PDF Catalogue
You will get a Excel file with detail about catalogue.
You will get PDF file with detail about catalogue.
About the Author
PRINT
Rama V. Baru
---
Rama V. Baru is on the faculty at the Centre of Social Medicine and Community Health, Jawaharlal Nehru University (JNU), New Delhi. Her research focus is on health policy, international health, privatisation of health services and inequalities in health. She is the author of Private Health Care in India: Social Characteristics and Trends and more recently has edited a volume on School Health Services in India: The Social and Economic Contexts. In addition, she has published extensively in journals and several edited volumes. She was awarded the Balzan Fellowship by the University College, London and the Indo-Shastri Canadian Fellowship. Dr Baru is the regional editor (South Asia) for Global Social Policy published by Sage. She has served as a member of research committees for the Government of India, World Health Organization, Indian Council for Medical Research and the Ministry of Health and Family Welfare.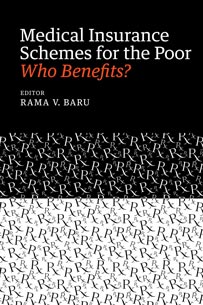 Who Benefits?
Hard-cover • 2015 • 168 • 6¼ x 9¼ (inch) ISBN 9789332701908 • INR 895