Download Catalogue...
Download Excel Data
Download PDF Catalogue
You will get a Excel file with detail about catalogue.
You will get PDF file with detail about catalogue.
About the Author
PRINT
Seema Joshi
---
Seema Joshi is Senior Sir Ratan Tata Fellow at Institute of Economic Growth, University of Delhi, Delhi, on deputation from the Kirori Mal College, University of Delhi, where she is Reader of Economics, Department of Commerce.

Dr Joshi's areas of interest include issues related to tertiary sector, social sector and urban management. While handling various training and teaching assignments, she also designed and taught an Elective Stream "Economics of the Services Sector" for XXXII Advanced Professional Programme in Public Administration (2006-07) during her deputation to Indian Institute of Public Administration as Associate Professor of Urban Management (September 2005 to May 2007).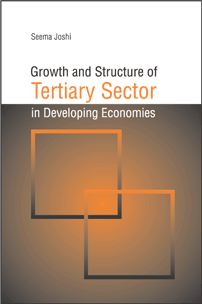 in Developing Economies
Hard-cover • 2008 • 174 • 6¼ x 9¼ (inch) ISBN 9788171886319 • US$45.95