Download Catalogue...
Download Excel Data
Download PDF Catalogue
You will get a Excel file with detail about catalogue.
You will get PDF file with detail about catalogue.
About the Author
PRINT
G. Mythili
---
G. Mythili is Associate Professor at the Madras School of Economics, Chennai. Currently she is visiting Indira Gandhi Institute of Development Research at Mumbai. Having obtained Ph.D. in Econometrics discipline, she visited University of California at Berkeley during 1990-91 as a Ford Foundation Post Doctoral Fellow. She was associated with many research projects including Farm Management Studies, Farm Production Risk, Globalisation of Indian Agriculture and Environmental Problems related to Energy Sector.
She has co-authored a book on Farm Production Decision under Uncertainty. Recently she visited University of Peradeniya at Sri Lanka for nine months as a Visiting Fellow in Environmental Economics. She was a member of Course Curriculum Committee of World Bank/MOEF Capacity Building in Environmental Economics. She has to her credit many journal articles and research reports.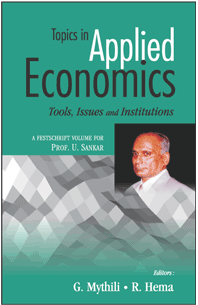 Tools, Issues and Institutions
Hard-cover • 2005 • 365 • 5¾ x 9 (inch) ISBN 8171883656 • INR 1195