Download Catalogue...
Download Excel Data
Download PDF Catalogue
You will get a Excel file with detail about catalogue.
You will get PDF file with detail about catalogue.
About the Author
PRINT
K.C. Pant
---
K.C. Pant is presently Deputy Chairman, Planning Com-mission, Government of India.
Born at Bhowali, Nainital District, Uttar Pradesh, K.C. Pant studied at St. Joseph's College, Nainital (Uttaranchal), and is a Gold Medalist from Lucknow University (M.Sc).
He was Member of Parliament from 1962 onwards for twenty six years (both Lok Sabha and Rajya Sabha) and has held several portfolios in the Union Council of Ministers, from time to time, including Finance, Home, Defence, Irrigation and Power, Energy, Steel & Mines, Heavy Engineering, Education, Science and Technology, Atomic Energy, Electronics and Space.
He was Chairman of the 10th Finance Commission. Presently, he is Chairman, Centre for Research and Information Systems for the Non-Aligned and Other Developing Countries (RIS), New Delhi; Chairman, G.B. Pant Social Science Institute, Allahabad; and, Co-Chairman, Indo-UK Round Table.
K.C. Pant has represented India in several International Forums from 1965 onwards. He has widely travelled in India and abroad.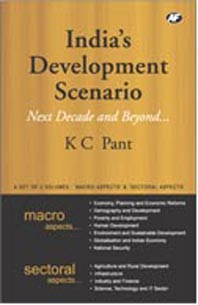 Next Decade and Beyond....(A Set of 2 Volumes)
Hard-cover • 2003 • 738 • 5¾ x 9 (inch) ISBN 8171882900 • INR 995