Download Catalogue...
Download Excel Data
Download PDF Catalogue
You will get a Excel file with detail about catalogue.
You will get PDF file with detail about catalogue.
About the Author
PRINT
Vidisha Maitra
---
Vidisha Maitra is a Research Associate at the Centre for Civil Society. Her experience at the Centre includes research on community forestry, ecosystem services of forests, decentralised water delivery systems, urban governance issues for the Centre's publication State of Governance: Delhi Citizen Handbook 2003, and co-coordination of the Research Internship Programme 2004. She holds a Masters degree in Economics from the Delhi School of Economics.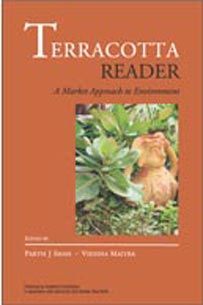 A Market Approach to the Environment
Hard-Cover • 2005 • 495 • 5¾ x 9 (inch) ISBN 8171884261 • INR 1295