Download Catalogue...
Download Excel Data
Download PDF Catalogue
You will get a Excel file with detail about catalogue.
You will get PDF file with detail about catalogue.
About the Author
PRINT
Ruchita Beri
---
Ruchita Beri is a Research Officer at Institute for Defence Studies and Analyses (IDSA). She specialises on political and security issues of Sub-Saharan Africa. She has an M.Phil from the Centre for West Asian and African Studies, School of International Studies (SIS), Jawaharlal Nehru University (JNU), New Delhi and a Diploma on Conflict Studies from the Department of Peace and Conflict Research, Uppsala University, Sweden. She is currently the Vice President of the African Studies Association of India and an alumna of the Women in International Security (WIIS), USA. She has lectured at the National Defence College, New Delhi and College of Naval Warfare, Mumbai. She has published several articles in books and academic journals.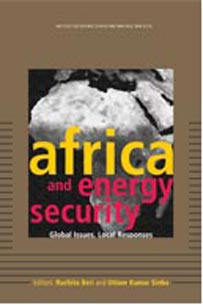 Global Issuess, Local Responses
Hard-cover • 2009 • 260 • 6¼ x 9¼ (inch) ISBN 9788171887545 • INR 895