Download Catalogue...
Download Excel Data
Download PDF Catalogue
You will get a Excel file with detail about catalogue.
You will get PDF file with detail about catalogue.
About the Author
PRINT
Murari Raj Sharma
---
Murari Raj Sharma received his Master's degrees in Public and International Affairs from the University of Pittsburgh (USA) and in Commerce and in Economics from Tribhuvan University (Nepal). He has closely worked with the United Nations since 1993, including as Member of the UN Advisory Committee on Administrative and Budgetary Questions, Chairman of the Fifth Committee, Vice President of the General Assembly and of the Economic and Social Council as well as Nepal's Ambassador to the United Nations in New York, Foreign Secretary, and chief of the United Nations Division in the Ministry of Foreign Affaires. He has served as Nepal's Ambassador to the United Kingdom as well. An expert in administrative reforms, he has advised the Government and various public enterprises of Nepal in that area. Mr. Sharma has published several articles in various professional journals, authored the book Murari Adhikari's Short Stories (2000), and co-authored the book Reinventing the United Nations (2007).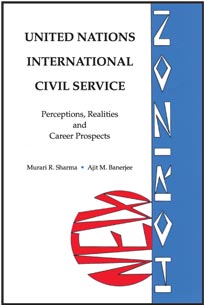 Perceptions, Realities And Career Prospects
Hard-Cover • 2009 • 434 • 6¼ x 9¼ (inch) ISBN 9788171887729 • INR 995