Download Catalogue...
Download Excel Data
Download PDF Catalogue
You will get a Excel file with detail about catalogue.
You will get PDF file with detail about catalogue.
About the Author
PRINT
Pritam Banerjee
---
Pritam Banerjee was formerly a Trade Policy analyst with the Confederation of Indian Industry. He has also been with the World Bank as a consultant in Washington DC. He was educated at Illinois Wesleyan University, London School of Economics and the Centre for International Trade and Development, Jawaharlal Nehru University, New Delhi. His primary interests include GATS, International Services Supply Chains and Trade Facilitation in Services.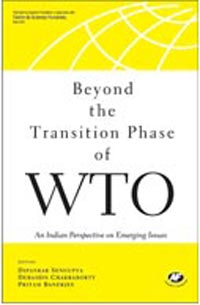 An Indian Perspective on Emerging Issues
Hard-cover • 2006 • 683 • 6¼ x 9¼ (inch) ISBN 8171885101 • US$79.95