Download Catalogue...
Download Excel Data
Download PDF Catalogue
You will get a Excel file with detail about catalogue.
You will get PDF file with detail about catalogue.
About the Author
PRINT
Ms Swaminathan
---
A world scientist of rare distinction and a living legend Professor M.S. Swaminathan obtained his Ph.D. in Agriculture from University of Cambridge. He has had a distinguished research, teaching, and administrative career at the Indian Agricultural Research Institute (IARI); Director General of Indian Council of Agricultural Research (ICAR); Secretary Agriculture, Government of India; Director General, International Rice Research Institute (IRRI). Currently, he is Member of Parliament (Rajya Sabha) and Member National Advisory Council, Government of India, and Chairman, M.S. Swaminathan Research Foundation, Chennai (Madras). He was formerly President, National Academy of Agricultural Sciences, New Delhi and Pugwash Conferences on Science and World Affairs.

He was Chairman of the UN Science Advisory Committee set up in 1980 to take follow-up action on the Vienna Plan of Action. He has also served as Independent Chairman of the Food and Agricultural Organization (FAO) Council and President of the International Union for Conservation of Nature and Natural Resources (IUCN).

Recipient of numerous national and international awards (including the first World Food Prize in 1987), sixty honorary doctorate degrees from around the world, author of over three hundred research papers and several books, the Time magazine ranked Professor Swaminathan among the twenty most influential Asians of the 20th century.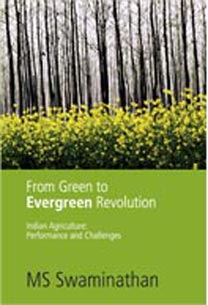 Indian Agriculture: Performance and Challenges
Hard-cover • 2010 • 410 • 6¼ x 9¼ in ISBN 9788171887972 • INR 1195
New Horizons in Indian Agriculture
Hard-cover • 2007 • 540 • 6¼ x 9(inch) ISBN 8171886256 • INR 1495