Download Catalogue...
Download Excel Data
Download PDF Catalogue
You will get a Excel file with detail about catalogue.
You will get PDF file with detail about catalogue.
About the Author
PRINT
H.S. Shylendra
---
H.S. Shylendra is a Professor at Institute of Rural Management Anand (IRMA). He has done his Ph.D in Economics at the Institute for Social and Economic Change (ISEC), Banga-lore. His areas of interests are rural development, sustainable livelihood, microfinance, rural finance and governance. He has published a book: Diversification and Sustainable Rural Livelihood (2005), two monographs and several papers in well known journals. He is a member of the editorial team of International Journal of Rural Management. He has carried out consulting and research assignments for many NGOs and other organisations like NABARD, RBI, SBI, SIDBI, SDC and Development Fund.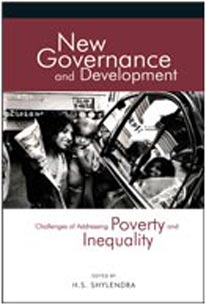 Challenges of Addressing Poverty and Inequality
Hard-cover • 2009 • 364 • 6 x 9 (inch) ISBN 9788171887286 • INR 995.00